My Tornjak is not a commercial Tornjak dog breeder. We are proud owners of a beautiful female Tornjak dog, Tiara Boss-Tor, who is Croatia's Junior Champion (JCH-HR), with excellent hips (HD-A). We love her so much that we wanted for her to experience motherhood. In cooperation with Boss-Tor kennel, we mated her with Junior European Champion, Victor Boss-Tor, with excellent hips and elbows (HD-A, ED-0).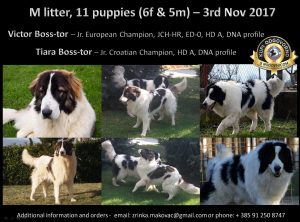 In this combination we received a beautiful  litter, of 11 symmetrical pupies, 6 females and 5 males. Our dogs are fed with a combination of natural and high-quality dehydrated foods, and both parents have DNA profiles.
We are looking for good people, future owners who will love this beautiful animal just as we like them. Tornjak is Croatian autochthonous breed of immense potential, great intelligence and strength. A dog that deliberately makes decisions and has a remarkable character. A dog that would give life for the protection of its herd and pack, but also a dog that needs to be well handled.
Puppies Health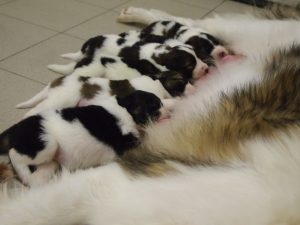 We pay great attention to the health of puppies, which are regularly cleaned of parasites and vaccinated. Puppies are looking for owners who will know how to accept the potential that Tornjak's breed carries and will invest time in dog upbringing and socialization.
Tornjak's are Croatian autochthonous breed that has been internationally recognized recently thanks to the efforts of kennels, dog breeders and tornjak lovers for the last 10 to 20 years. It is now up to us all to protect this breed, preserve it, take care of the Tornjak's and continue with responsible breeding.